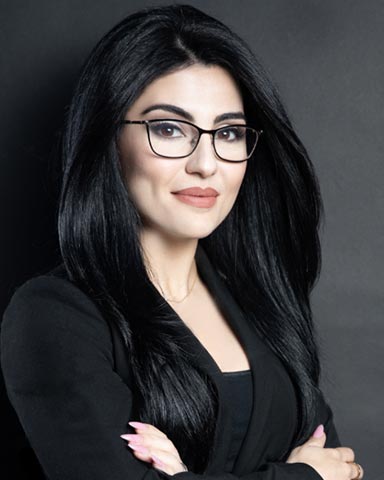 Chinaz Koch "Attorney Naz"
Chinaz Koch (Attorney Naz) was born in the Kurdish region of Northern Iraq and has called Texas her home since 2001. As a Kurdish refugee, Chinaz has been instilled with a thriving passion to fight for the rights of others.
Chinaz used this passion to obtain a Bachelor of Science from Texas A&M—Corpus Christi, and used her new-found knowledge to become a probation officer in Nueces and Harris County. Although Chinaz enjoyed serving the community and working alongside judges and attorneys as a probation officer, she wanted to take her desire to help others to a higher level, and decided to pursue a legal career. Chinaz obtained her law degree from Thurgood Marshall School of Law, where she graduated with high honors ( magna cum laude).
During her time in law school, Chinaz was a member of the Veterans Law Student Association and the Death Penalty Awareness Society. Chinaz was also a dean's list recipient, and was presented with various CALI Excellence awards for having the highest grade in her law school class. She also devoted her time to helping other students by being a tutor for multiple courses.
In addition to attending law school, Chinaz spent time getting practical experience as well. Chinaz interned for the Honorable Judge Kenneth Hoyt in the Southern District of Texas, the Harris County Attorney's Office, and two prominent Houston personal injury firms.
Throughout her final year as a law student, Chinaz quickly realized her passion was best fulfilled by fighting for clients who have been wronged due to the negligence of others. Soon after graduation, Chinaz accepted a position with a personal injury firm in Houston, Texas. Chinaz concentrated her practice on personal injury and managed her own docket of cases, including 18-wheeler, wrongful death, and premises liability cases. During this time, Chinaz gained priceless courtroom and litigation experience. Chinaz prides herself in vigorously representing her clients and providing them with the close, personal attention they deserve.
In the Spring of 2021, Chinaz opened the doors of her own law firm. Chinaz practices personal injury law, criminal defense, family law, and wills & estates.
When Chinaz is not zealously representing her clients, she can be found lifting weights at the gym, exploring the diverse Houston restaurants, and spending time with her family and friends.